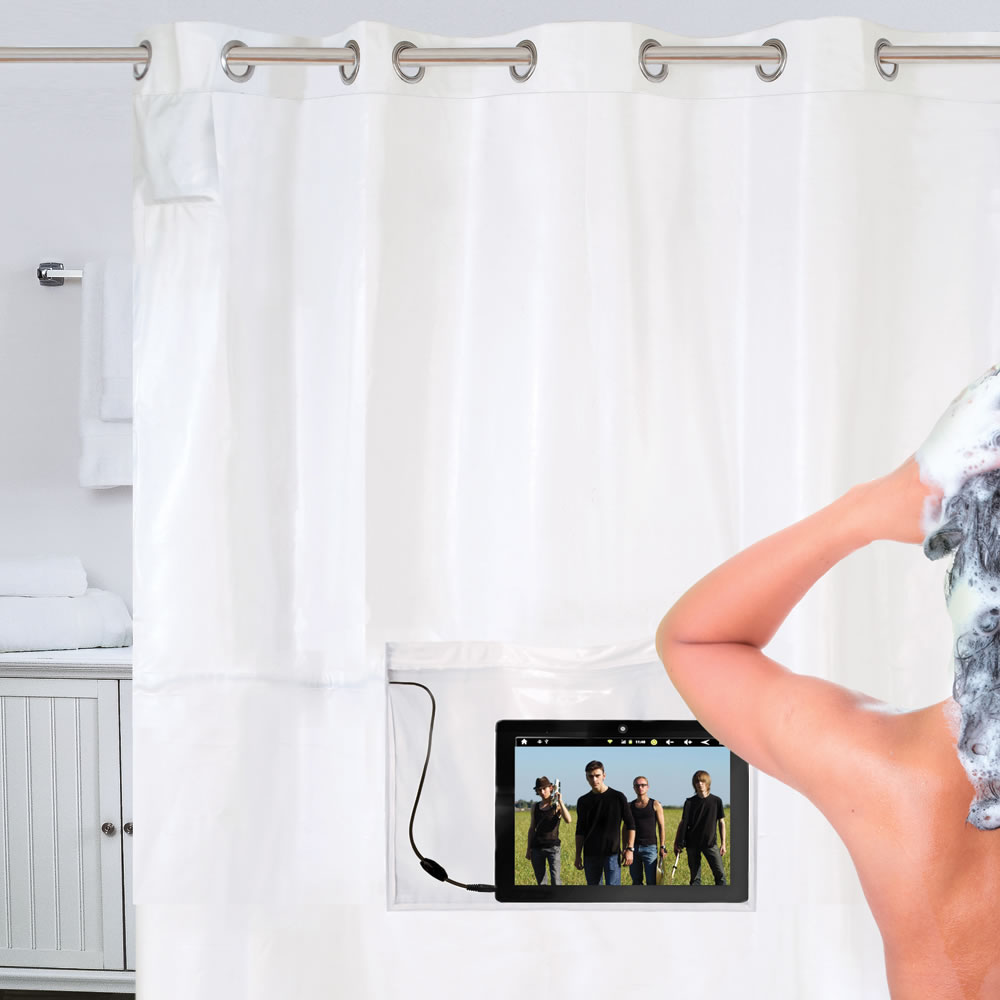 There's a fine line between a love of technology and an addiction. In fact, that line has become so fine in recent years that it's practically nonexistent. How many people do you know who don't have a smartphone? Maybe one, right? And once you get a smartphone, it's all downhill from there because you don't understand how you ever lived without GPS/email/Words With Friends at your fingertips and you never want to go back.
If you must be within two inches of your technology at all times and are unable to follow a conversation due to gadget ADD then the iPad Musical Shower Curtain (Hammacher Schlemmer, $49.95) may be for you! Let's be honest, it totally blows when you have to say goodbye to your electronics just to cleanse your body (ten minutes really does seem like forever) so why not take them with you? This shower curtain features a waterproof pocket to house your favorite media player (iPad, iPod, iPhone, non-i device) and keeps it safe while you soap up. The pocket itself is made of touch-enabled material so you can still use your gadget even whilst showering and the pocket itself is zipped from the outside so there's no chance of contact with water. Integral audio cables connect your device to speakers in the upper right and left corners of the shower curtain so you can listen to tunes without leaving your shower haven.
You could buy this for the tech addict in your life, but just be aware that you might never see them again.
3 out of 5 stars.
Specs:
-Dimensions: 72″ x 72″
-Shower curtain with waterproof pocket
-Pocket zips from outside
-Audio cable connects media player to 2 corner speakers
-Pocket made of touch enabled material
-Stop/start media
-Navigate screens
-Answer calls
-Uses 3 AA batteries